Fishing for king salmon in Seward Alaska 365 days a year! Alaska Saltwater Charters, is an Alaskan-owned and operated business which offers professional quality, year-round salmon fishing charters and marine adventure packages from Seward Alaska. For the salmon fishing enthusiast, we offer trolling for the mighty king salmon 52 weeks a year!
In 2014 Alaska Saltwater Charters was the first charter vessel to ever win the top spot in the Seward Silver Salmon Derby. Dianne and her crew boated the 2nd largest silver salmon ever in the then 58 years of Derby records. The lugger weighed #21.25 and was worth $10,000 to the lucky angler!!
Coming from a commercial fishing background Dianne has the experience and the right boat for the job. She owns and operates a commercial power troller the F/V Florette C. which is a vessel specifically designed for catching ocean run salmon especially the King Salmon or Chinook. Alaska Saltwater Charters targets this King of Fish by trolling a hybrid of commercial and sport tackle.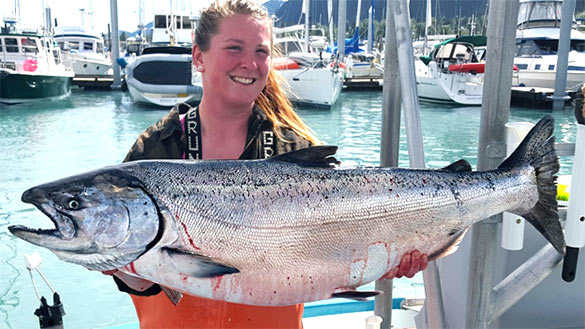 Dianne considers herself a salmon snob as people in Sonoma County may consider themselves wine snobs. In her opinion, the flesh of ocean run or "feeder" kings as they are commonly referred to is by far the best eating of all salmon. It is not uncommon to see troll caught King Salmon selling in fish markets in the Pacific Northwest for close to $40 per pound. King salmon have the highest omega 3 of all fish except Sablefish or Black Cod. King Salmon are the least plentiful and the most commercially valuable type of the five pacific Salmon species. The Chinook is blue-green, red, or purple on the back and top of the head, with silvery sides and white ventral surfaces. It has black spots on its tail and the upper half of its body. Chinook have a Black gum line which is present in both salt and freshwater and are sometimes referred to as "blackmouths" Adult fish range in size from 24 to 36 in, but may be up to 58 in in length; they average 10 to 50 lbs., but may reach 130 lbs. The current sport-caught world record, 97.25 lbs., was caught on May 17, 1985, in the Kenai River. The commercial catch world record is 126 lbs. caught near Rivers Inlet, British Columbia in the late 1970s.
We take salmon fishing seriously, and send you home with the best kept fish in Seward. Please see our Commitment to Quality